MindBreaker
Retinol Moisturizer Cream 2.5% for Face & Eye Area with Vitamin C & E Hyaluronic Acid for Anti Aging, Wrinkles & Acne - Best Night & Day Facial Cream by Simplified Skin 1.7 oz(50 g)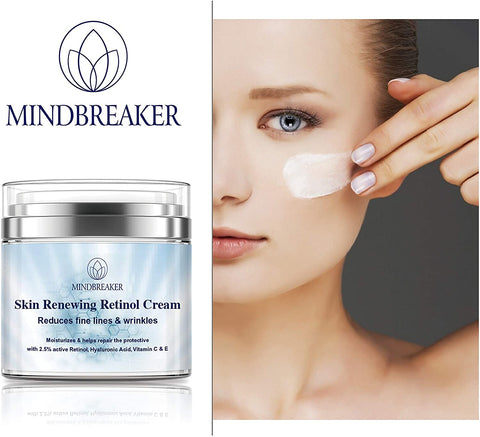 RETINOL MOISTURIZER FACIAL CREAM: Contains only Natural and Organic ingredients, anti-aging retinol cream is designed for daily use to visibly reduce the signs of aging. Our retinol moisturizer for face promotes smoother skin texture, filling in fine lines and deep wrinkles.Best Facial Age Defying Solution for Anti Aging, Wrinkles & Fine Lines to Restore Elasticity.
RETINOL FOR YOUR SKIN: If you are struggling with acnes, pimples, dark spots, blemishes, uneven skin tone, breakouts, and clogged pores, this Retinol face moisturizer is the way to go. Our moisturizer cream with 3% retinol provides the ideal balance is not only to eliminate the pimple marks, but also to inhibit the pimples. Even out unflattering skin discoloration, brighten your skin tone and eliminate nasty breakouts! Enjoy a flawless and radiant face from now on.
SAFE FOR YOUR SKIN: Our moisturizer cream with retinol has been used by dermatologists, estheticians, and skin care specialists. Hypoallergenic formula is made only of natural andorganic and safe ingredients. We crafted a lightweight & odorless formula free of parabens and any other harsh substances to be ideal for all skin types. Apply a fast-absorbing & non-greasy cream at nighttime and enjoy your rejuvenated soft skin.
RETINOL BENEFITS: Applying retinol topically you are getting a bunch of benefits. Night Moisturizer prevents your skin from wrinkles due to its minimizing effect. Advanced formula brightens dull skin by exfoliating at a cellular level and regulates oily skin. It fades dark age spots, sun spots and hyperpigmentation.
100% SATISFACTION GUARANTEE: If you are not satisfied with the product you purchased for any reason, please contact us for a return instruction within 30 days for a refund. Your satisfaction is our #1 priority! And while you are at it, grab a few moisturizer creams for your family, friends, or loved ones as a gift that is functional and beneficial to their health! Also, a great gift to anyone you know who just cares about their skin!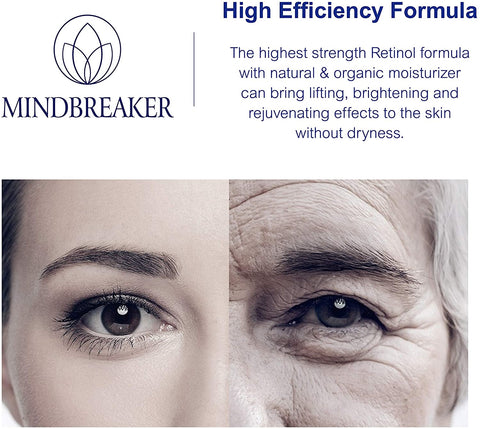 <br>Our Products are Not Tested on Animals. All Natural.Vegan ingredients.<br> <br>Day and Night Retinol Moisturizer Face Cream <br> <br>Anti Aging 2.5% Retinol Moisturizer Vitamin C & E Hyaluronic Acid is a light weight face cream which replenishes moisture into your skin, making it plumped, glowing and young looking. Our Retinol moisturizer cream quickly absorbs without a heavy or sticky feel. Suitable for all skin types.<br> <br>Revitalized and moisturized skin tissues;<br> <br>Reduced fine lines and wrinkles;<br> <br>Faded age spots and hyperpigmentation;<br> <br>Firmed and lifted face contour;<br> <br>Evened skin complexion.<br> <br>ACTIVE RETINOL MOISTURIZER:<br> <br>1. Stimulates collagen and elastin synthesis <br>2. Supports the healing process of the skin <br>3. Increases skin thickness <br>4. Refines the appearance of wrinkles <br>5. Evens skin tone and texture <br>6. Restores elasticity and firmness to the skin. <br>Retinol Moisturizer Face Cream Instructions:<br> <br>1. Wash your face with lukewarm water and gently dry! <br>2. Open the jar, take some cream and dab onto your face,neck  <br>3. Spread upwards and outwards. Use a swirling motion to blend the cream into your skin.<b>
Your essential oils cost less than other brands, how can you offer such affordable essential oil?
Mindbreaker's is able to offer essential oils at an affordable price because of of our good relationships with our farmers. They deliver us raw plants and we then cold-press them ourselves at our harvesting center; because of this we are able to reduce our costs by eliminating middle men and maintaining excellent quality. The question shouldn't be why are our prices so low, but rather, why do our competitors price their products so high?
Are Mindbreaker's oils watered down or diluted in any way?
All our essential oils are pure blends, that means every essential oil on our site contains 1 ingredient. We don't water down any of our essential oils in any way.
Are Mindbreaker's essential oils pure or do they have anything added to them?
All our essential oils are 100% therapeutic grade, this is the highest standard of grading certified for essential oils by the USDA. They are 100% pure essential oils. Essential oils vary from season to season to potency, but we don't add anything to them ever. 
What are Mindbreaker's criteria for testing essential oils?
We regular test our crops and seeds before and after every harvest. We also have our in-house team of scientists and lab technicians do tests to see if there any abnormalities with the crop for the season. We also have regular yearly visits from all our certification freidns from the GMP, ISO 9000, KOSHER certification board and FDA certification board
Are your oils natural?
Mindbreaker's cuts no corners when it comes to the quality of our oils. ALL of our products are 100% organic, pure and natural. Our oils are cold pressed at our own facilities from the raw crops our farmers bring us. There are never any additives or fillers added. 
Are Mindbreaker Oils GMO, Cruelty, and Pesticide Free?
Yes, because we grow and harvest our crops in house, we have complete control over our essential oils. We use GMO free seeds, we do not test on animals, nor do we add pesticides to any of our crops. 
Shipping Times
Mindbreaker's ships to all countries in the world, we ship out of California.
Standard Shipping is 3 days and is FREE worldwide.
Returns
If you are not 100% satisfied with your purchase, you can return the product and get a full refund or exchange of the product for another one, be it similar or not.
You can return a product for up to 30 days from the date you purchased it.
Any product you return must be in the same condition you received it and in the original packaging and must not have been unsealed for safety reasons. 
Our support team will assist you with your refund, just contact us.